Spotlight
We recently caught up with Marcia Carr (nee Hirano), an accomplished healthcare professional of nursing, and board member, donor, and friend of Nikkei Seniors Health Care and Housing Society. In this article, we talk with her about her career, the pandemic's effect on seniors, and her own experiences with having a family member in the Nimi Nikkei Home assisted living residence.
Marcia has built an extensive and accomplished career in healthcare and also serves in teaching capacities at universities and on the boards of various nursing organizations.
She has been a registered nurse for 53 years, as well as a clinical nurse specialist in geriatric medicine, geriatric psychiatry and nurse continence advisor. She is also an adjunct professor at UBC School of Nursing, University of Victoria School of Nursing, SFU Gerontology Research, and guest professor at Fujian Medical University School of Nursing, and former clinical assistant at McMaster University School of Nursing.
For over 20 years, Marcia has been a board member of Nikkei Seniors Health Care and Housing Society, and has also volunteered her specialities in nursing to do both staff and public education sessions to improve the care and lives of our older adults. She is also active in other organizations as:
An elected member at large for The RN Council for Nurse and Nurse Practitioners of BC

Board member of the Canadian Nurses Association Nursing Advisory Committee for Network of Speciality Nurses

Secretary for Canadian Nurse Continence Advisors

Soon to be president of the Clinical Nurse Specialists Association of BC
Marcia's nursing career has spanned "womb to tomb", having started out in obstetrics and transitioning to older adult care.
"Older adult care (geriatrics) is the most challenging and underserviced population that I have been privileged to work with. The complexity intertwining the normal aging process with chronic and acute illnesses challenges my brain power every single day." says Marcia. "The beauty is that the wisdom that I gain from every older adult I interact and care for adds so much richness to me both personally and professionally!"
What has the pandemic highlighted about the needs seniors?
"What strikes me so poignantly is the lack of respect allotted to older adults about being able to say and be listened to about what they want in life and living rather than being paternalistically 'cared' for. 'Don't do to me without asking whether I agree or even want to' should have been a choice rather than what happened. Isolation and loneliness increased the morbidity and mortality of so many older adults, it breaks my heart to think of the unmeasurable irreversible damage done to the quality of their lives." says Marcia.
A glimpse of Marcia's personal and family's experience with Nikkei Home (both before and during the pandemic).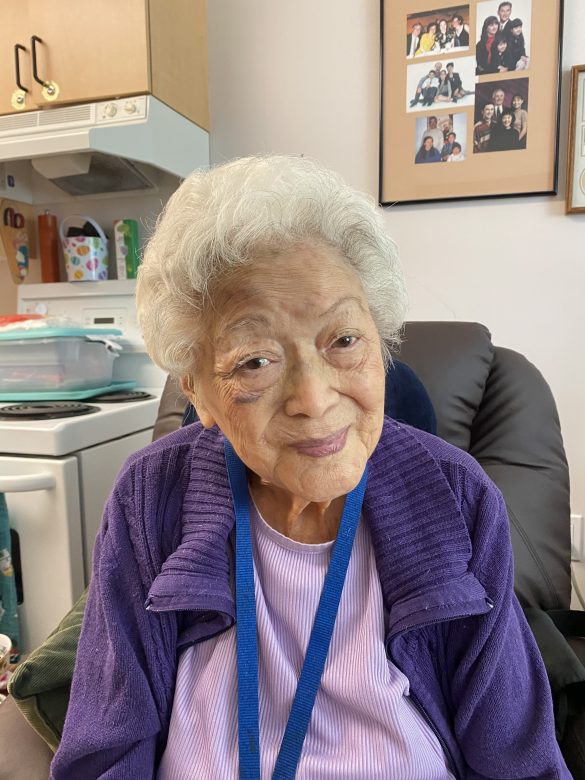 Marcia's mother is 101 and a current resident of Nimi Nikkei Home assisted living residence. She came to live at Nikkei several years after it opened. It was her choice to move, following a major health issue that affected her ability to drive and participate in community activities.
"We feel so blessed and appreciative of the care and caring that is at the heart of Nikkei. Within a few months of lockdown at Nikkei, I knew she was failing rapidly. Thank goodness with her family doctor and geriatrician's support, I was able to be designated to be an essential visitor. She bounced back to life again. The amazing staff know her well and are always encouraging her to keep on going. Despite 3 more steps backwards, her resilience well learned from the internment and life in general has quite remarkably been her mainstay for recovery."
What makes Nikkei Home different from other care facilities?
"Nikkei Home is a stellar example of what and how a Assisted Living facility should be. We are so fortunate to have dedicated and long term staff who understand and practice Nikkei Home' philosophy. We additionally have 24/7 LPNs and care aides whereas many other only have LPNs on days 5 days a week. Having Hi-Genki part of the whole facility enables residents to see and interact beyond the walls of the building as they hear and see children and families enjoying life and food."
What are your hopes for Nikkei Home in the short or long term?
"Sustainability of not just the building and amenities but also the enabling technology and supports for our residents remains an ongoing financial challenge. Nikkei administration has made each dollar stretch 10's farther than any organization that I know of. However, I hope that our community at large steps up to help when needed. Right now we have a campaign going on to replace the original spa tub for residents as well as trying to provide technological enablement for all residents (e.g. building wide WIFI access). These are necessities not luxuries to support and care for Nikkei residents. My ultimate hope is that Nikkei Home will be there for all of us when we are ready for rewarding step in life's journey."
---
Learn more about our INSPIRE ACTION fundraising drive and how your support could make a difference for seniors at Nikkei Place, and bring virtual outreach programming to hundreds of seniors.